French Cried | Freya French | Jack Hammer
Mar 9, 2016
Freya French has come back looking for the kind of rough handling rope bondage that has made Jack Hammer famous. He puts her into the kind of contorted positions that make her joints ache and her pussy wet. This petite little pixie is into pain and suffering when she is doing it for someone strong enough to make her submit.

She needs to prove to Jack that she can be valuable to him. He wants to see how flexible his new little slut can be, twisting her until her arms almost pop out of their sockets. She can't even struggle against the tightness of the ropes. But Jack isn't only interested in how well she can bend before she breaks. He needs to see her skills when it comes to sucking a cock. She hasn't earned the right to taste his, but Mr. Pogo is handy and still better than she deserves.
Turning Violet Part 3 | Violet Monroe | Freya French


Nov 14, 2015


258 Images • 55:60 Min Video

Violet Faces Her Final Scenes

Poor Violet Monroe has no clue when the end is coming but she is ready for this live feed to be over. She has been punished and humiliated for hours and she knows she can't take much more. She just wants it to be over before she completely breaks.

She thinks that when we strap her down and mount a Sybian between her legs that it is the beginning of the end. She figures that a few intense orgasms will make for a hot finale, and there is nothing better at extracting ecstasy from a tired pussy than the strongest vibrator the world has ever known. She's wrong, though. This isn't the end.

She makes the same mistake when we hook the electrodes up to her. An interrogation? Electrical shocks? This has to be the end, she thinks. But again, she is missing the point. The feed doesn't end because we have run out of ideas. We are never done coming up with new ways to make a girl suffer. This is only going to end when she is completely broken. That's why we have so much fun with these.
Turning Violet Part 2 | Violet Monroe | Freya French


Nov 7, 2015


266 Images • 56:26 Min Video

With her sexy red hair and knock out body, Violet Monroe stepped into the world of Real Time Bondage Live Feeds again, knowing that we would use her for a long, hard day in the dungeon. She's been here before, but never like this. Once as a decoration, and once for a BaRS feed, this will be the first time Violet gets to experience first hand exactly how depraved our crew and our membership can be when they work together.

The test for today is whether or not Violet can come when she is on the brink of crying. Elaborate predicaments have her ready to scream out an orgasm as she struggles to keep from bursting into tears. Nipple clamps, foot caning and Mr. Hitachi all work together to make her brain melt in erotic overload. This is only part 2 and Violet is already about to break, so you know that when the finale comes she is going to be completely blown out.
Turning Violet Part 1 | Violet Monroe | Freya French


Oct 24, 2015


217 Images • 40:15 Min Video

Poor Violet Monroe has something about her that screams "hurt me!" We're not the type to ignore such clear messages from a beautiful woman. She admits that she is into the most intense aspects of BDSM. This piss-drinking pain slut will do whatever it takes to satisfy us and our sadistic membership.

That's why live feeds are so much fun. We get to not only act on whatever twisted desires pop into our heads, but we have a room full of friends who each have their own contributions to add. Want to see her tits whipped? Let us know. What us to lock her down into metal bondage in a classic slave position while we do it? We're more than happy to oblige. We have so much fun making all of the sickest ideas you have come alive on the screen.

And the best part is that live feeds can last so long. We like to take our time, work them over, ramp things up over time, and turn a girl into a quivering pile of crying, cumming flesh by the end of a day. This is just the beginning.
French Twist | Freya French
Sep 11, 2015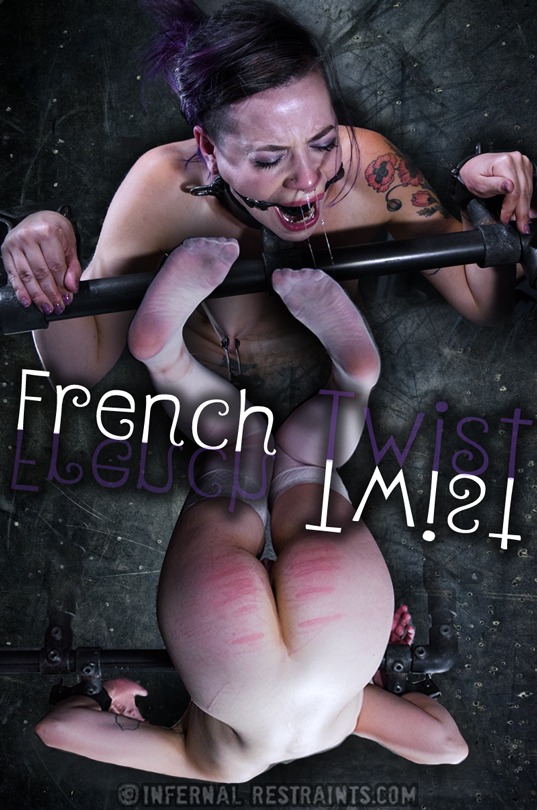 Well, Freya French is going to have to tell us later which of our devious devices she considers the worst. We've got a lot for her to choose from, and she is going to get to sample quite a few.

The adjustable metal collar is a good contender. It locks into an iron framework that allows us to raise or lower her ass, giving us unfettered access to her ass and pussy. From here we can cane her, flog her, whip her, or just vibrate her pussy until she eventually squirts all over the rough, wooden floor.

The ass hook is pretty nice, too. A useful tool, the way it controls her movements is elegant in its simplicity. If she wants to wiggle her butt or shift her weight she can, but it will mean fucking her own ass with the cold, metal hook.

But ultimately it is Mr. Pogo that most shames the lovely Freya. Being violated by the rubber dick on a stick, being made to cum through the pain and the humiliation, being punished for the way that her pussy squirts when she cums, it's all so degrading. The fact that it turns her on to be so harshly abused only reiterate her humiliation.